>

Bacopa monnieri (brahmi) extract 5 caps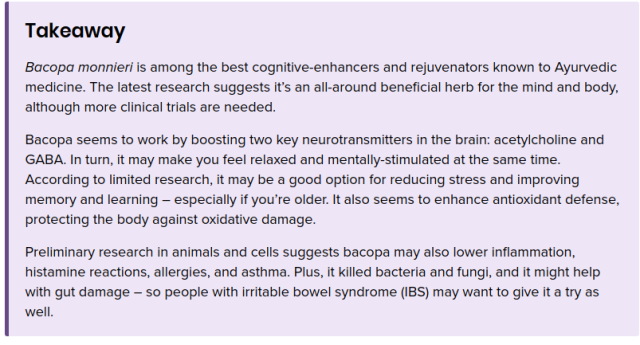 Bacopa monnieri (brahmi) extract 5 caps
SKU:
50% bacosides Brahmi extract
I buy this in bulk from BulkSupplements. I'm offering small quantities here not to make mad profit but because I want people to try it out. I found that it had a great effect on my mood (taking 2g instead of 1g), mental clarity, and my posture. It makes me do Tai-Chi, even tho I have never learned how. After a month of taking it you should notice a boost in working memory.
I've tried many nootropics. Many. This is the best one I've ever tried. And it's not just a nootropic, but rather a true panacea. It also seemed to make my dreams more vivid (which makes sense since it boosts acetylcholine).
It tastes pretty nasty so I have to capsule it. You'll receive 5 capsules of about 900mg per capsule. Obviously just buy this on Amazon if you want to save money.
According to Selfhacked, bacopa may fight stress, anxiety, depression, seizures, gut problems, hormonal imbalances, insomnia, high blood pressure, cholesterol & triglycerides, cancer, inflammation, brain fog, ADHD, diabetes, hypothyroidism, bacterial and yeast infections, schizophrenia, asthma, Parkinson's, Alzheimer's, opioid dependence and withdrawal. Increases longevity and muscle strength.
Unknown safety during pregnancy, and may lower male fertility.