>

Broccoli seeds (sulforaphane)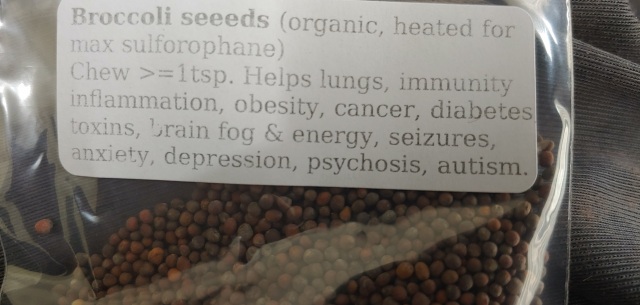 Broccoli seeds (sulforaphane)
SKU:
Sulforaphane (in broccoli sprouts and seeds)
is a natural super detoxifier, neuroprotector (helps with seizures, psychosis, autism, depression, anxiety, low energy & brain fog), anti-diabeties, anti-cancer, anti-heart-disease, immune booster, blood pressure reducer, lung function increaser, anti-obesity, anti-inflammatory. You can get a pound of organic seeds on 
Amazon for $20
, and either sprout them or just grind up the seeds and mix with a little mustard for max effect. If you heat the seeds or sprouts up to 70C for 10 minutes, you can triple the sulforaphane. Here's a more detailed 
meta-analysis of benefits
. And here's an extensive
video
if you are a visual/auditory learner. 
Note: some people say the seeds are poisonous, but this is 
not true
 unless you eat like a cupful of them. Eating too much can cause gas tho.
To promote the benefits of these seeds I'm selling 10g sample packets for $2, which gives you something like 1-5 doses depending how sensitive you are to it.
Sprouting is good if you are looking for a cheap way to grow some salad stuff at home, but it seems that eating the seeds is the quickest and easiest way to get the sulforaphane benefits.
One thing to note is that especially the first time you eat broccoli seeds, and especially if they are unsprouted, they might cause some temporary gas issues. You might want to try a small amount at first and build up until you can feel an effect.
You can also eat these with a little mustard (which contains myrosinase) to potentially further increase the benefits of sulforaphane, although the seeds should provide some myrosinase themselves.
--------------
I have personally found the mental benefits especially of these seeds to be quite noticeable. The effect I get is a kind of background bliss. I haven't gotten this effect from any other foods that I've tried, so it seems uniquely powerful.
I've now received a number of reports from customers which all are something along the lines of what Will A. said: 
​
"Hey there! 
Hope all is well. I just wanted to thank you for the broccoli seeds you included in my past couple of orders - I've noticed that after regularly chewing them during the week, I've definitely 'felt' better mentally and physically on days I chew them.I had never considered them before this. So just wanted to thank you for introducing me!"