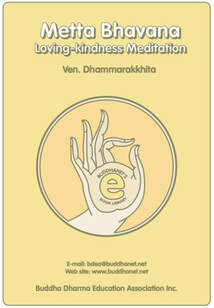 Metta
is Pali for loving kindness. It is one of the essential buddhist meditation practices. Altho not directly related to insight, it is necessary as part of the spiritual path to develop compassion.
Metta meditation
instructions
, thanks to Ajahn Sona.
My friend Oliver followed Ajahn Sona's metta meditation instructions in a cave for 5 weeks, and it has healed his cPTSD better than any other therapy he has ever done.
The key to doing proper metta meditation is first to be able to truly love yourself. If you have problems with that, watch this video series I made:
www.youtube.com/watch?v=BQ__TjiuUJU
(main tip is to love your inner child rather than trying to jump straight to loving your messed up adult self).
Some folks say "I can't meditate!" Like they just can't sit still and meditate. If you are one of those people, I have a natural medicine for you to try that if done correctly (it's a little bit finicky sometimes since it's a 3-substance combo, but it's all natural).
It's a mystery medicine
, because although we know the plant that it comes from (Acacia confusa, nilotica, and probably other species), so far we have not had enough scientists researching which exact alkaloid in Acacia is the one that combines with NMT to produce this effect which possibly only a few dozen people have ever even experienced.
​ I'm calling this medicine the "metta mind mirror meditation mystery molecule," or "6M" for short, as I think it will be a while before the real scientific name is known (and TBH I don't even want the real name publicized--that is the doorway to making it illegal). Some more info (and TLC plates of metta) can be seen
here
.
I would like folks to try it,
report back their experiences
, and if it helps, donate whatever you can to encourage me to extract more of it. I feel that this (along with the nutritional supplement
PEA oil
) is something that could really get people off all kinds of other drugs, get them into meditation, get them out of depression. It does tend to specifically focus your meditation on what in your life may be blocking you. It's important to consciously direct it towards metta meditation.
To summarize the effects of NMT +Metta, I think "magic rainbow love bliss" is appropriate.
I only got that one time vaping changa, out of hundreds of attempts, not counting breakthrus which of course always produce that, but few people are really ready for a ego death. Usually I find changa to be more like "ok, you ready to ascend?" or on a low dose it's just very therapeutic in helping me see things from higher perspectives. And the divine love of changa is really much more "divine" than this... not sure if this makes any sense, but it's almost like changa/ayahuasca is transendence-oriented, whereas NMT + Metta is imminent perfection, right here, right now, no need for mindfuck or insights or ascension. I guess that's maybe a pro and a con. But again, most people are not ready for ascension. They are ready for easy magic love rainbows. Note that if you use enough, it will be an ego death, but it "loves you to death with a divine pillow over your mouth to suffocate you."
Note that you cannot experiment with this if you are using any herbs or meds that
interact with MAOi
.
If you feel you are ready for this experiment,
contact me
and let me know.
If it helps you, please donate generously to Friends of the Pygmies.
Metta NMT extraction instructions are
posted at the nexus
.
I have a metta+NMT vape cart instruction sheet you can
download
for using it. If you have the more convenient all-in-one "chamnha" leaf form,
these are the simpler instructions
for that.
UPDATE: I just discovered an amazingly similar substance in Mimosa hostilis, which I am calling MimoLove. Unfortunately it is only in some MHRB so it isn't possible to guarantee you will find it.

UPDATEEE!!!! I just found out that if you vape whole Syrian rue seeds, and then vape DMT, you can get a heart chakra effect somewhat similar to Metta NMT!